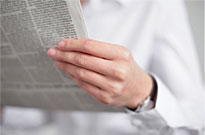 Contact: Lauren Carmody
Phone: 860.676.2300 x149
lauren.carmody@adamsknight.com
Working Americans to Master Income Protection Skills On the Go
Council for Disability Awareness Launches new app that provides consumers with interactive tools to demonstrate importance of income protection
Portland, Maine – Feb. 20, 2013 – The Council for Disability Awareness (CDA) today announced the launch of the Defend Your Income mobile app, which enables both iPad and Android tablet users to learn how to master the ancient art of income defense. Designed to assist consumers and the financial and insurance professionals that serve them, the app offers a highly interactive and engaging user experience that helps users to understand the risk of encountering an income-disrupting disability.
"Since we launched the Defend Your Income Movement this past September, we've been looking for new ways to bring the user experience to both agents and consumers," said Barry Lundquist, president of the CDA. "We know a large majority of consumers use tablets in their daily life, so the development of this app was a natural progression. It allows consumers to learn about ways to protect their income any time, anywhere and from any type of tablet device."
In an effort to educate working Americans about the critical importance of protecting their income, the CDA launched the Defend Your Income Movement in September 2012. A recent CDA study shows that despite the potentially catastrophic financial impact, most Americans, and even their financial advisors and employers, significantly underestimate their odds of becoming disabled. Worse yet, about two-thirds of the workforce is not covered by private long-term disability insurance. The Defend Your Income movement is designed to bring awareness to the likelihood of experiencing a long-term disability and the importance of income protection.
The app, adapted from defendyourincome.org, provides users with the ability to learn about critical risks to their income, including illness or injury in a fun and engaging way. Through the app, users can "meet their attackers" and can even fight off those attackers in an interactive game. Through a series of quizzes, visitors can also earn their "black belt" in income defense. And they can calculate their own Earnable Income Quotient (EIQ) to see what's at stake – their lifetime income-earning potential.
The app is free and is available for download on iTunes and Google play. An Internet connection is not required to access any of the features on the app.
About Defend Your Income
Defend Your Income is a movement designed to unite consumers, advisors, employers and insurers in the fight to protect the incomes of working Americans from the financial risk caused by illness and inj