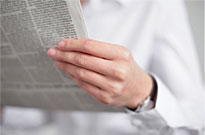 Contact: Lauren Carmody
Phone: 860.676.2300 x149
lauren.carmody@adamsknight.com
The Council for Disability Awareness Appoints New Board Chairman
Dan McMillan of The Standard continues CDA's mission to educate working Americans on the importance of income protection
Portland, Maine – March 25, 2013 – The Council for Disability Awareness (CDA) today announced Dan McMillan, vice president of the Insurance Services Group for Standard Insurance Company, "The Standard" has been elected chairman of the CDA Board of Directors.
McMillan joined the CDA board in 2009. He succeeds John Roberts, president and CEO of Assurant Employee Benefits, who has been CDA's board chairman since 2010. Roberts will continue to serve as a board member and valued counsel to the CDA.
As board chairman, McMillan will work with the CDA and its board to educate working Americans about the risk of experiencing an income-interrupting illness or injury and the resulting financial problems that can occur.
"The fact is that most Americans still rather significantly underestimate their chances of experiencing an illness or injury that could pose a serious risk to their ability to earn an income," said Barry Lundquist, president of the CDA. "With Dan's strong leadership skills and the active support and participation of the 19 top U.S. disability insurance carriers, CDA will continue the important work of helping wage earners understand their risk and better protect their financial security."
McMillan joined The Standard in 1989 and currently co-leads the Insurance Services Group with responsibility for all claims services, customer support, premium administration, producer services, shared services, and the enterprise contact center.
McMillan is a graduate of Linfield College, earning a Bachelor of Arts degree in English and a minor in Mathematics. He holds an Associate Life & Health Claims designation from the International Claim Association.
About The Council for Disability Awareness
The Council for Disability Awareness (CDA) is a nonprofit organization dedicated to helping the American workforce become aware of the likelihood of disability and its financial consequences. The CDA engages in communications, research and educational activities that provide information and helpful resources to wage earners, their families, the media, employers, financial advisors, consultants and others who are concerned about disability and the impact it can have on wage earners and their families.