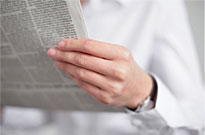 Contact: Emily Pangakis
Phone: 860.676.2300 129
Emily.Pangakis@adamsknight.com
Disability Reinsurance Management Services Joins Council For Disability Awareness
Reinsurer strengthens the movement to educate working Americans about the risk and impact of experiencing a disability
PORTLAND, Maine, Dec. 4, 2013 – Disability Reinsurance Management Services (Disability RMS) today announced it has joined the Council for Disability Awareness (CDA) as the first reinsurer to become part of the national movement to educate working Americans about disability awareness and income protection.
Disability RMS is a premier provider of turnkey disability risk management services (claims, underwriting, and actuarial) and is a full service TPA provider of policy administration for individual worksite, group voluntary and true group insurance programs supporting a full array of insurance products. The reinsurer and disability services provider joins America's other premier disability insurance companies in an effort to raise awareness about the threat of an income-disrupting disability and the importance of protecting every wage earner's ability to earn an income. Disability RMS has broad reach throughout the disability industry, and will provide valuable insights and unique perspectives in support of CDA's mission.
"The need for income protection has never been greater, yet far too many companies and individuals overlook the importance of this benefit," said Matt Gilligan, president of Disability RMS. "It is a natural extension of our reinsurance services role that we join the disability industry leaders to help educate wage earners about the importance of protecting income and better preparing for the unexpected."
As part of its CDA membership, Disability RMS will provide resources and expertise that will help CDA fulfill its mission, and will also leverage CDA's educational materials, tools, quizzes, disability research, statistics, and calculators, all of which can be found on CDA's website: disabilitycanhappen.org. Similarly, Disability RMS will join the Defend Your Income movement, which unites consumers, advisors, employers and insurers in the fight to protect the incomes of working Americans.
"As the benefits landscape continues to evolve, it's clear that the value of educating working Americans about their risk of experiencing a disability remains a foundational element of financial security," said Barry Lundquist, president of the CDA. "As the first reinsurer to join CDA, Disability RMS demonstrates excellent corporate citizenship and becomes part of an elite group of insurance companies who are committed to protecting the incomes of America's workforce."
About The Council for Disability Awareness
The Council for Disability Awareness (CDA) is a nonprofit organization dedicated to educating the American public about the risk and consequences of experiencing an income-interrupting illness or injury. The CDA engages in research, communications and educational activities that provide information and helpful resources to wage earners, employers, financial advisors, consultants and others who are concerned about the personal and financial impact a disability can have on wage earners and their families.
About Disability Reinsurance Management Services
Disability RMS is the nation's leading provider of turnkey disability risk management products and services with more than $375 million of disability premium, and 40,000 disability claims under management. Disability RMS also offers its highly rated policy administration systems and services in support of group and individual voluntary and worksite insurance products. Located in Westbrook, Maine, Disability RMS has more than 350 employees with the specialized product knowledge and risk management service skills required to succeed in today's complex risk protection market. Disability RMS holds the distinction of twice being named the Best Large Company to Work For in Maine, an accolade awarded by the Best Companies Group, in partnership with the Maine Department of Labor.