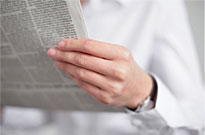 Contact: Emily Pangakis
Phone: 860.676.2300 129
Emily.Pangakis@adamsknight.com
Ohio National Financial Services Joins Effort to Raise Awareness of Disability, Income Protection
Insurance company becomes newest member of the Council for Disability Awareness
PORTLAND, Maine, Mar. 12, 2014 – Ohio National Financial Services today announced it has joined the national movement to educate working Americans about disability awareness and the importance of income protection by becoming the newest member of the nonprofit Council for Disability Awareness.
The Cincinnati-based insurance provider joins 20 of America's other premier disability insurance companies in a collective industry effort to raise awareness about the threat of an income-interrupting disability and the growing importance of income protection for all wage earners.
"We value the opportunity to join forces with the Council and its members in educating working Americans about how to protect their single most important financial resource, their income," said Gary T. "Doc" Huffman, president and chief executive officer of Ohio National. "The partnership builds on the founding mission of our company – to help wage earners achieve long-term financial security and independence; we believe the income protection message lies at the heart of that."
As a CDA member company, Ohio National will contribute resources and expertise and will help spread the disability awareness message by disseminating CDA's educational materials, tools, quizzes, disability research, statistics and calculators, many of which can be found on CDA's website: disabilitycanhappen.org The company will also join the Defend Your Income movement, which unites consumers, employers, advisors and insurers in the fight to protect the incomes of working Americans from the financial risks associated with disability.
"There has never been a more crucial time to educate working Americans about the importance of a sound financial plan that can protect them from the financial impact of a disability," said Barry Lundquist, president of the CDA. "As the benefits landscape shifts, it's encouraging to welcome another member company that understands and appreciates the importance of spreading the income-protection message to all wage earners. We applaud Ohio National's corporate citizenship and values."
About The Council for Disability Awareness
The Council for Disability Awareness (CDA) is a nonprofit organization dedicated to educating the American public about the risk and consequences of experiencing an income-interrupting illness or injury. The CDA engages in research, communications and educational activities that provide information and helpful resources to wage earners, employers, financial advisors, consultants and others who are concerned about the personal and financial impact a disability can have on wage earners and their families.
About Ohio National Financial Services
Tracing its corporate origins to 1909, Ohio National today markets a variety of insurance and financial products through more than 50,000 representatives in 47 states (all except Alaska, Hawaii and New York), the District of Columbia, Puerto Rico and through subsidiary operations in Santiago, Chile. As of Dec. 31, 2013, its affiliated companies have $38.8 billion total assets under management. Products are issued by The Ohio National Life Insurance Company and Ohio National Life Assurance Corporation. Named Cincinnati's "#1 Top Workplace" (large category) by the Enquirer Media (June 2010, 2012 and 2013) and "25 Best Medium-Sized Companies to Work for in America" by the Great Place to Work Institute (June 2004), Ohio National has more than 1,000 associates. Visit Ohio National for more information.