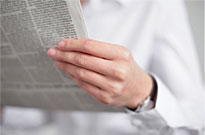 Contact: Emily Pangakis
Phone: 860.676.2300 129
Emily.Pangakis@adamsknight.com
Council for Disability Awareness Announces Increased Commitment to Educate Young Working Consumers
Mary Beth Storjohann, Gen Y financial expert, joins nonprofit in raising awareness of the need for income protection
PORTLAND, Maine, August 4, 2014 – The Council for Disability Awareness today announced it is increasing its efforts to educate younger working Americans about the importance of protecting their incomes. To help achieve this mission, the nonprofit is partnering with Mary Beth Storjohann, a Gen Y financial planning expert and Certified Financial Planner. Storjohann is the founder of Workable Wealth, whose mission is to empower clients to get on the right financial track and make smart, educated decisions with their money.
As a spokesperson for the CDA, an educational organization dedicated to raising awareness about the impact an illness or injury can have on working consumers' ability to earn a living, Storjohann will help spread the income-protection message. Her target audience will primarily be Americans in their 20s and 30s who have been reluctant to consider income protection strategies.
One in four of today's 20 year-olds will experience an income-interrupting disability before they retire. Despite these odds, wage earners – especially women and couples at the height of their wealth-accumulation – exhibit low awareness and understanding of the need to safeguard their income.
"We welcome the opportunity to join forces with Mary Beth in our shared passion for talking with working consumers about income protection and its role as part of a sound financial plan," said Carol Harnett, president of the CDA. "Her personal and professional background, and broad experience in the use of media to educate wage earners, makes her an excellent education partner for our organization."
Storjohann will work with CDA in raising awareness through a variety of approaches, including social media, speaking and writing opportunities. She also joins the CDA-led Defend Your Income movement, a consumer disability awareness campaign backed by some of the nation's top disability insurance providers.
"Partnering with the Council for Disability Awareness is a natural extension of my mission," said Storjohann. "Understanding your disability risk and the available protection solutions is often one of the most important financial lessons a younger wage earner can learn, but also one of the most overlooked. I am ready to take on this effort with the CDA."
Before establishing her partnership with CDA and founding Workable Wealth, Storjohann spent nearly 10 years in the financial services industry working with boutique and large firms, alike, and most recently served as Director of Financial Planning with HoyleCohen. Storjohann is an active member of the Financial Planning Association and NexGen Financial Planner community. She also serves as Chair of the San Diego FPA's Wounded Warrior Financial Counseling Project.
About The Council for Disability Awareness
The Council for Disability Awareness (CDA) is a nonprofit organization dedicated to educating the American public about the risk and consequences of experiencing an income-interrupting illness or injury. The CDA engages in research, communications and educational activities that provide information and helpful resources to wage earners, employers, financial advisors, consultants and others who are concerned about the personal and financial impact a disability can have on wage earners and their families.