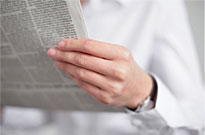 ontact: Amy Bell
Phone: 860.676.2300 x119
amy.bell@adamsknight.com
AIG Benefit Solutions Joins Effort to Raise Public Awareness of Disability Risk and Need for Planning, Income Protection
Insurance company is the newest member of the Council for Disability Awareness
PORTLAND, Maine – February 14, 2012 – AIG Benefit Solutions is doing its part to help ensure that American workers who face an income-disrupting disability are financially prepared to manage it. CDA president Barry Lundquist announced today that AIG Benefit Solutions has become the newest member of the non-profit Council for Disability Awareness.
As a CDA member company, AIG Benefit Solutions joins 17 leading disability insurance providers in an industry-wide effort to educate Americans about the risk of disability and the importance of planning and taking responsibility for protecting their incomes. CDA also engages financial advisors, employers, human resources and benefits professionals in the growing disability awareness movement.
"Most Americans would struggle to pay their bills if they lost their ability to earn an income for an extended period of time, yet many haven't planned for such an occurrence," said Curt Olson, AIG Benefit Solutions' president and CEO. "The CDA does a terrific job educating Americans about how common disabilities really are. Awareness is building, and we're proud to draw on our 160-year tradition of protecting American families to contribute to the momentum."
Lundquist is pleased that AIG Benefit Solutions has taken up the cause.
"Planning for disability is a critical component of a sound financial plan, and I'm thrilled AIG Benefit Solutions is joining our effort to spread that message," said Lundquist. "We want to make it easy for working Americans to understand this important financial literacy issue – and to take appropriate steps to protect themselves and their families early in their careers when their earning potential is greatest."
As part of its work with the CDA, AIG Benefit Solutions will contribute resources and expertise and will help spread the disability awareness message by disseminating educational materials and tools, quizzes, disability research and statistics, games, calculators and other disability related educational resources found on the CDA's website, https://disabilitycanhappen.org . The company will also help position the CDA as the leading resource for information about disability education and planning. Olson will join other disability insurance industry leaders on the CDA board of directors.
About the Council for Disability Awareness (CDA)
The Council for Disability Awareness (CDA) is a nonprofit group dedicated to helping the American workforce become aware of the likelihood of disability and its financial consequences. The CDA engages in communications, research and educational activities that provide information and helpful resources to wage earners, their families, employers, members of the media and others who are concerned about disability and the impact it can have on wage earners and their families.
About AIG Benefit Solutions
AIG Benefit Solutions® is the marketing name for the domestic benefits division of American International Group, Inc. Underwriting risks, financial and contractual obligations, and support functions associated with products marketed by AIG Benefit Solutions are the responsibility of the underwriting companies, which include American General Life Insurance Company of Delaware* (Wilmington, DE), American General Assurance Company* (Schaumburg, IL), American General Indemnity Company* (Omaha, NE), American General Life Insurance Company* (Houston, TX), The United States Life Insurance Company in the City of New York (New York, NY) and National Union Fire Insurance Company of Pittsburgh, Pa., with its principal place of business in New York, NY. *These companies do not solicit business in New York.