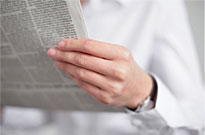 Contact: Gary Griffin
Phone: 860.676.2300 x131
gary.griffin@adamsknight.com
Disability Rates Continue Steady Climb, According to CDA's 2008 Disability Claims Review
Public and Private Disability Insurance Claim Payments Exceed $100 billion
PORTLAND, Maine – September 10, 2009 – The 2008 Long-Term Disability Claims Review conducted by the Council for Disability Awareness (CDA) reveals a surge in the number of American wage earners requesting and receiving long-term disability payments.
The CDA's 4th Annual Long-Term Disability Claims Review analyzes private and public long-term disability claims data and identifies continuing and emerging disability trends among U.S. workers. Fifteen CDA member companies, representing more than 75 percent of the commercial disability insurance marketplace, submitted proprietary claim data for inclusion in this year's study.
The Claims Review found that CDA member companies made nearly $8 billion in ongoing disability insurance payments to disabled individuals in 2008. CDA member companies approved long-term disability insurance benefits for 156,000 new individuals.
In addition to these private payouts, applications for the Social Security Disability Insurance (SSDI) program continued to surge in 2008. SSDI benefit applications increased 5.9 percent to 2.3 million in 2008 – the highest ever. The program paid 7.4 million disabled workers a total of $91.3 billion in 2008 – a 4.6 percent increase over payments made in 2007 and more than twice the $43.5 billion provided in payments to SSDI program beneficiaries 10 years ago.
The approval rate for SSDI claims fell to 38 percent in 2008, representing a continued steady decline from 1998's 52 percent approval rate. The CDA Claims Review found that 30 percent of individuals receiving private long-term disability insurance benefits did not qualify for SSDI assistance and 95 percent of claims were not job-related.
According to the Claims Review's qualitative data, member company representatives indicated that there were no significant effects on private disability claims resulting from the economic downturn of 2008. Looking forward, private insurers predict a modest increase in claim applications while Social Security is already reporting that it expects to receive about 3.3 million disability applications in fiscal 2010 – up 27 percent from 2008 as a result of the recession.
CDA member company representatives agree that a negative economic outlook, erosion of people's savings and a less secure employment environment have raised the American workers' awareness of financial risks and made planning for income limiting disability more important than ever.
"The findings from both the public and private claims data illustrate the need for wage earners to take the necessary steps for disability education, planning and prevention," said Barry Lundquist, interim president of the CDA. "Disability is on the rise and the responsibility for understanding the risk of disability and how to plan for an income limiting disability is shifting to the individual wage earner, especially during these tough economic times. It is imperative for workers to closely examine their financial plans and make sure they and their families are protected against an unexpected disability that hinders their ability to earn an income."
The leading cause of long-term disability continues to be musculoskeletal and connective tissue disorders, such as back pain, joint and muscle disorders. Other primary causes include cancer, the second leading cause of all new claims, and cardiovascular and circulatory problems such as heart disease and strokes.
For a copy of The 2008 Long-Term Disability Claims Review, please visit disabilitycanhappen.org.Additional resources are also available through CDA's Web site, including research, tools and financial planning guides that provide tips on how to prevent and protect against the impact of disability. Individuals can determine their own personal risk of becoming disabled using CDA's disability calculator, the Personal Disability Quotient (PDQ), at www.whatsmypdq.org
About the Council for Disability Awareness (CDA)
The Council for Disability Awareness (CDA) is a non-profit group dedicated to helping the American workforce become aware of the growing likelihood of disability and its financial consequences. The CDA engages in communications, research and educational activities that provide information and helpful resources to wage earners, their families, employers and others who are concerned about disability and the impact it can have on wage earners and their families.
About the 2008 Council for Disability Awareness Long-Term Disability Claims Review
Since 2005, the Council for Disability Awareness (CDA) has conducted a proprietary annual review of long-term disability claims among the U.S. working population. The purpose is to identify continuing or emerging trends, and to share them with interested audiences. The 2008 CDA Long-Term Disability Claims Review includes quantitative and qualitative long-term disability insurance claims data from the annual CDA member long-term disability claims survey. Also included is selected worker disability data from the Social Security Disability Insurance (SSDI) program. 15 CDA Member Companies, representing over 75 percent of the commercial disability insurance marketplace, participated in the 2008 survey.