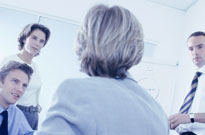 Preventing BACK PAIN, the leading cause of disability
Tips to reduce your chances of a back injury occurring from the North American Spine Society:
When standing, position one foot in front of the other, knees slightly bent. This takes pressure off your lower back.
Sit with your knees slightly higher than your hips for good lower-back support.
Stand on a stool if you need to reach for something above shoulder level.
Sleep on your side with a pillow between your knees to reduce pressure on your back. If you do sleep on your back, put a couple of pillows under your knees.
Push heavy items instead of pulling them. Use your arms and legs to start the push. If you must lift a heavy object, get someone to help you.
Keep within 10 pounds of your ideal weight. Added weight puts a strain on your back.
Don't smoke. Nicotine from tobacco restricts the flow of blood to the disks that cushion your vertebrae.
Adapted from BlueCross BlueShield of North Dakota. Healthy Choices Third Quarter 2005.