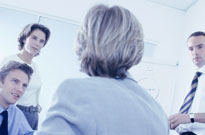 Eye-Opening Statistics About Disability's Potential Impact on Your Organization
Direct and indirect costs of disability take a financial and psychological toll on employers as well as employees.
Over 225 million days of production time were lost in 2006 due to off-the-job injuries. Cost: over $240 billion.


National Safety Council®, Injury Facts® 2008 Ed.

Unscheduled absences cost some large employers an estimated $850,000 per year in direct payroll in 2006.


CCH and Harris Interactive, "2006 CCH Unscheduled Absence Survey," October 2006

Employers spend 4.1% of payroll on unscheduled absences.


Marsh/Mercer Health & Benefits, "Health, Productivity and Absence Management Programs", 2006 Survey report

The average disability absence results in lost productivity costs exceeding $22,800.


Integrated Benefits Institute, IBI News September 8th, 2006

The "total cost" of each disability absence exceeds $35,000.


Integrated Benefits Institute, IBI News September 8th, 2007

55% of employee absences are blamed on disabling injuries and illnesses.


JHA 2005 Absence Management Survey, "Big-picture benefits: Integrating FMLA and disability claims data helps reduce absenteeism," by Chris Silva, September 2006
The Council for Disability Awareness is dedicated to helping you help your employees — and your company — better manage the often-staggering costs of disability.
Please view our Resources for Employees to find a wealth of information you can share throughout your company. Our goal is to raise employee awareness of wellness and financial protection.
Note: This page contains links to outside Web sites, Web servers and systems. They do not necessarily reflect the opinions of CDA, nor can we guarantee their accuracy. The Council for Disability Awareness cannot assume responsibility for the availability, content, or even the existence of servers, sites or systems outside of the CDA.