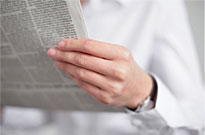 Contact: Amy Bell
Phone: 860.676.2300 x119
amy.bell@adamsknight.com
The Great Disability Divide: Gap Between Consumer and Advisor Perceptions Presents Significant Opportunities
New research shows greater need for education and planning
PORTLAND, Maine – December 5, 2011 – Nearly two-thirds of consumers say it's important to start planning financially for a potential loss of income "in their 20s" or "at any age," yet financial advisors perceive consumers "in their 40s" are most open to discussing income protection. That "divide" is just one of several uncovered by the "2011 Disability Divide: Advisor Study," a consumer and advisor research study conducted by the Council for Disability Awareness (CDA). The survey reveals meaningful variances between what consumers perceive about the disability risk and advisor assumptions about the consumer mindset. The positive finding is that consumers, even at younger ages, are more receptive to a conversation about income protection.
The Disability Divide survey illustrates other differences between how consumers answered questions related to income-threatening disabilities compared to advisors' predictions of how they would respond to those same questions. CDA believes these differences make clear the need for education, for raising awareness about the real facts about the disability risk and of the importance of income protection planning. After all, one thing that consumers and advisors solidly agree on is that income is virtually every wage earner's most valuable financial resource – the source of all financial security.
An overwhelming majority of the consumers surveyed, 83 percent, agree that "a disability could happen to anyone at any time," while only 35 percent of advisors expected consumers to agree with that statement.
The survey also showed that even when consumers and advisors are in agreement, their shared beliefs could be inconsistent with the facts. For instance, most consumers and advisors think injuries trigger the majority of disabilities, but the reality is that illnesses such as musculoskeletal disorders (e.g., back problems), cancer and heart disease are 10 times more likely than accidents to interrupt a wage earner's income.
"The Disability Divide survey findings are empowering to advisors and consumers," said Barry Lundquist, president of the CDA. "What we are hearing is that consumers are more ready to have the conversation about protecting their income from serious disability than advisors may assume, or than may have been the case in the past. It may be that the difficult economic times have made consumers feel more vulnerable and more serious about protecting their financial security. Armed with this knowledge, advisors are in a strong position to help America's wage earners take action to protect their financial futures."
CDA conducted the online survey with both individual advisors, those who work more often with consumers in one-on-one settings, and group advisors, who typically advise employers and consumers in the work setting. All respondents were actively involved in providing advice about the disability risk and income protection products. Altogether 1,267 financial advisors including insurance agents and brokers, investment advisors, employee benefit consultants, financial planners and wholesalers completed the survey.
The study's purpose was to evaluate how accurately advisors would predict consumer attitudes about disability, determine the perception gap between what advisors and consumers believe, and identify opportunities for advisors to engage consumers. Bridging this gap calls for education about the risk of disability, the consequences of income loss and the importance of income protection planning.
The research showed that even though nearly all consumers say their ability to earn an income is their most important asset, astonishingly, 37 percent say they've never thought about protecting it. Advisors overestimate consumers' sense of unpreparedness, assuming that as many as 65 percent of consumers would say they have never thought about an income protection plan.
"The all important first step is for all wage earners to recognize the facts about their own personal disability risk. They get the fact that they can't live without their income, they agree "disability can happen at any time", but they deny the disability can happen to them personally. Most people's financial future depends on income and the ability to work, but there are no guarantees for any of us that our present state of health will continue in the future," said Lundquist. "Advisors must find ways to connect on this important message, and consumers need to be proactive about understanding what needs and benefits they have, and whether they are adequately protected before a disability strikes. Human resources professionals and financial advisors are great resources to help find out what their benefits will or will not cover if they become disabled."
"Whatever the disconnect may be, the bottom line is income protection is a necessity in any environment but even more so today," said Lundquist. "Disability is a very real possibility for people of all ages. Any sound financial plan must include an assessment of how to protect your income stream." The full report can be viewed at: https://disabilitycanhappen.org/research/producer/
The CDA offers resources and information for consumers, employers, HR professionals and financial advisors to educate themselves and others about the likelihood of disability and its devastating effects. Disability preparedness tools and resources are available at: https://disabilitycanhappen.org
About the Council for Disability Awareness (CDA)
The Council for Disability Awareness (CDA) is a non-profit group dedicated to helping the American workforce become aware of the likelihood of disability and its financial consequences. The CDA engages in communications, research and educational activities that provide information and helpful resources to wage earners, their families, employers and others who are concerned about disability and the impact it can have on wage earners and their families.