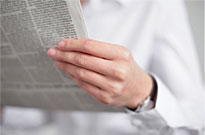 Contact: Gary Griffin
Phone: 860.676.2300 x131
gary.griffin@adamsknight.com
OneAmerica Joins Effort to Increase Awareness for Disability Planning and Prevention
Insurance Company Becomes Newest Member of the Council for Disability Awareness
PORTLAND, Maine – February 16, 2010 – The Council for Disability Awareness (CDA) is pleased to announce that OneAmerica Financial Partners, Inc. has joined the CDA to help raise awareness about the importance of disability planning and prevention.
As a CDA member company, OneAmerica joins 14 leading disability insurance providers in a collective industry effort to educate the American workforce about the risks of disability and how wage earners can protect themselves and their families should the unexpected occur.
"A key challenge continues to be helping people understand the risks of disability and that there are easily accessible solutions to mitigate those risks," said Len Cavallaro, Vice President of Employee Benefits for American United Life Insurance®, a OneAmerica® company. "Joining the CDA is a great opportunity for OneAmerica to get people thinking and talking about this important issue."
Cavallaro will represent OneAmerica on the CDA Board of Directors. Barry Lundquist, interim president of the CDA, said Cavallaro's knowledge and creativity are a welcomed addition to the board comprised of disability insurance leaders.
Lundquist added that the continued support of the insurance industry leaders strengthens the CDA's efforts.
"We are very pleased that OneAmerica has committed to help spread the message of disability awareness," said Lundquist. "Their participation, and the efforts of our other industry partners, will help educate wage earners about the financial impact of disability and the steps they can take to protect the financial health and stability of their families and their way of life.
OneAmerica will leverage its considerable industry expertise – more than 130 years – and resources to help extend the reach of the CDA. The company will disseminate the CDA message, its tools, and help position it as the leading resource for information relating to the need for proper disability planning, according to Cavallaro.
CDA member companies include: Assurant Employee Benefits, Berkshire Life, Guardian, The Hartford, Illinois Mutual, Lincoln Financial Group, MassMutual, MetLife, Mutual of Omaha, Prudential, The Standard, Sun Life Financial, Union Central, and Unum.
"CDA membership demonstrates industry leadership and corporate responsibility," said Lundquist. "We appreciate the guidance and support our member companies provide. Their efforts benefit workers and their families, agents and brokers, as well as the entire disability insurance industry."
While disabling illness is a growing problem, many workers are unaware of their risk. The CDA offers tools on their website, disabilitycanhappen.org, to help employees assess their risk of disability and be prepared for the possible outcomes.
About the Council for Disability Awareness (CDA)
The Council for Disability Awareness (CDA) is a non-profit group dedicated to helping the American workforce become aware of the growing likelihood of disability and its financial consequences. The CDA engages in communications, research and educational activities that provide information and helpful resources to wage earners, their families, employers and others who are concerned about disability and the impact it can have on wage earners and their families.
About OneAmerica
OneAmerica Financial Partners, Inc., is headquartered in Indianapolis, IN. The companies of OneAmerica can trace their solid foundations back more than 130 years in the insurance and financial services marketplace. Focusing on retirement services, life insurance and employee benefits, we deliver on our promises when customers need us most.