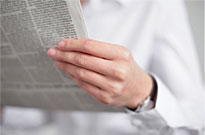 Contact: Gary Griffin
Phone: 860.676.2300 x131
gary.griffin@adamsknight.com
Disabilities Rising Among Workers; Need for Employer- Driven Disability Awareness, Support Efforts Also Increases
New CDA Web Site Offers Employers Resources to Help Employees Become Aware of, Plan for Financial Consequences of Disability
PORTLAND, Maine. – September 25, 2007 – Studies show that three out of every 10 workers between ages 25 and 65 will experience an accident or illness that keeps them out of work for three months or longer, potentially leading to unmanageable debt, the inability to save for retirement or even personal bankruptcy. To help wage earners learn more about the realities and consequences of becoming disabled, and help them plan accordingly, the Council for Disability Awareness (CDA) launched a comprehensive Web site.
Preparing for an unexpected illness or accident has never been more important for America's workforce, especially as the number of workers experiencing a disability continues to rise – 35 percent since 2000 – and more families struggle to make ends meet due to an unforeseen stop in income.
Employees often look to their employers as a trusted source of information about financial matters, such as retirement planning and medical-cost management. However, as disability becomes an increasing threat to personal financial security, employees need additional information about the likelihood of experiencing a disability and how to manage the accompanying financial consequences. In response, employers are taking steps to help workers become better informed about leading healthier lifestyles and being financially prepared for unexpected illnesses and accidents.
To help employers with these efforts, the Council for Disability Awareness (CDA) today launched a new employer-focused Web site, disabilitycanhappen.org/employer/, that contains information and tools which employers can provide to their employees about the financial consequences of disability and how to plan accordingly.
"Preparing for an unexpected disability has never been more important for employees – and their employers – as 30 percent of American workers are forecasted to experience a serious illness or accident during their careers," explains Robert Taylor, president of CDA. "With this new site, CDA aims to provide employers with resources to help their employees, as well as their businesses, better manage the sobering costs related to disability."
The site contains information and tools for employers to help employees increase their awareness of disability and improve their financial planning, including:
The site also offers resources specifically for employers, such as internal communications templates, information about wellness programs and statistics on the impact of disability on the workplace.
"With an effective wellness program and good 'disability financial planning' American workers can lessen their odds of experiencing a disability and improve their chances of financial security should a disability strike," says Taylor. "When employers help employees lead personally and financially healthy lifestyles, everyone benefits."
About the Council for Disability Awareness (CDA)
The Council for Disability Awareness (CDA) is a non-profit group dedicated to helping the American workforce become aware of the growing likelihood of disability and its financial consequences. The CDA engages in communications, research and educational activities that provide information and helpful resources to wage earners, their families, the media, employers and others who are concerned about disability and the impact it can have on wage earners and their families.