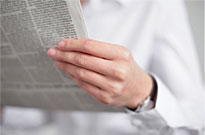 Contact: Gary Griffin
Phone: 860.676.2300 x131
gary.griffin@adamsknight.com
Disability: Are Americans Prepared to Risk Their Retirement Security?
Council for Disability Awareness White Paper Addresses Erosion of Traditional Financial Support for Disabled Workers and Its Effects on Retirement
PORTLAND, Maine – June 17, 2008 – Mounting home foreclosures and the rising cost of everyday living have forced many Americans to dip into their retirement savings. But tough economic times are not the only threat to retirement security. A new paper released by the Council for Disability Awareness (CDA), entitled Worker Disability: A Growing Risk to Retirement Security, addresses Americans' lack of awareness of the risks and the financial burden that an unexpected accident or illness can have on retirement savings. Despite the fact that three in 10 workers entering the workforce today will become disabled before retiring, disability is often overlooked as a threat to long-term financial security, according to the CDA paper.
"We have entered a new era for securing personal financial security, one that is shifting more responsibility to the individual," said Robert Taylor, president of the Council for Disability Awareness. "Unfortunately, while more Americans are becoming disabled, too many are putting their – and their families' – financial and retirement security at risk because they just don't understand the potential long term impact of an income-limiting disability."
The CDA paper notes that over the last 10 years, the number of American workers with long-term disabilities has grown four times the growth of workers in the United States. Yet, most Americans lack awareness about the threat of a serious illness or accident, resulting in a significant underestimation of the financial risk disability poses to them. Ninety percent of workers underestimate their chances of becoming disabled and 85 percent do not express concern about their chances of suffering a disability lasting three or more months, according to a 2007 CDA survey. In addition, six in 10 workers do not know how they would manage an income-limiting disability.
The CDA paper points out that American workers are being required to take on more responsibility for their own personal financial wellbeing, but most are not planning accordingly.
Author and Yale University Professor Jacob Hacker, has analyzed this "great risk shift" from the employer to the worker. "Preparing for a disability has never been more important," explains Professor Hacker, who also provides the foreword to the paper. "Traditional sources of support for disabled workers have eroded, shifting financial responsibility for accidents and illnesses to the individual. Workers need to be aware of these intensified risks if they are to work toward and demand both private and public solutions."
Professor Hacker, the author of The Great Risk Shift: The New Economic Insecurity and the Decline of the American Dream, has analyzed the socio-political philosophy that encouraged the shift in benefit attitudes from the employer to the worker.
The CDA paper outlines a call-to-action for employers, planners and advisors and the media to work together to help Americans better understand this growing threat, and empower workers in ways that strengthen their financial health and mitigate their financial risks. By doing so, this will help Americans to stay in control of their financial security – even if disability strikes.
About the Council for Disability Awareness (CDA) and the author:
The Council for Disability Awareness (CDA) is a non-profit group dedicated to helping the American workforce become aware of the growing likelihood of disability and its financial consequences. The CDA engages in communications, research and educational activities that provide information and helpful resources to wage earners, their families, the media, employers and others who are concerned about disability and the impact it can have on wage earners and their families. The author, Robert G. Taylor, is president of the CDA.