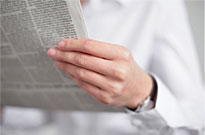 Contact: Amy Bell
Phone: 860.676.2300 x119
amy.bell@adamsknight.com
Personal Disability Quotient Now Available in Spanish
Interactive Tool Estimates Your Personal Disability Quotient
PORTLAND, Maine – November 28, 2011 – The Council for Disability Awareness (CDA) has strengthened its ability to communicate to U.S. workers about the importance of planning for the financial impact of a disability. Based on the popular Personal Disability Quotient (PDQ) calculator, the non-profit organization has created a Spanish-language version to help individuals estimate their chance of losing income over an extended period of time due to illness or injury.
CDA released the Spanish-language translation of the PDQ to coincide with benefits enrollment season, which may be the only time some workers review their employee benefits packages. Employers and advisors can use the Spanish PDQ as a resource to help Spanish-speaking workers learn about their risk of disability and the very real threat it poses to their income. CDA believes understanding their risk is an individual's essential first step in developing a plan to protect their income and their families.
"We see real value in having a resource that speaks to people in their primary language so that nothing is lost in translation," said Barry Lundquist, president of CDA. "The PDQ gives Spanish-speaking workers the power to use the tool for themselves in order to make informed decisions. It is important to remove every barrier to understanding that income loss from an illness or injury is a real risk for everyone."
Lundquist says a number of factors, including a growing Spanish-speaking population and CDA's commitment to address the needs of all American wage earners contributed to the organization's decision to translate a downloadable and printable Spanish version of the PDQ. The PDQ tool – in Spanish or English – is effectively used by financial professionals to educate workers during benefit enrollment meetings and financial planning sessions.
Not only does the PDQ tool help workers quantify their risk of becoming disabled, it helps them proactively manage that risk. First it engages people – by asking a few simple lifestyle questions and then calculating their personalized disability risk. Then it empowers them to protect their future income by pointing them to www.disabilitycanhappen.org where they can find practical tips on how to prevent a disability, as well as information about how to prepare financially in the event of a disability. The site's prevention resources focus on healthcare, lifestyle and safety tips, and its planning resources include tools to help people budget for lost income, tap into other benefits and secure their financial plans.
The Council suggests the PDQ calculator be used in a variety of ways. Financial advisors can use it to raise their clients' awareness of one of their largest risks – the potential loss of their ability to earn a living. Employers can educate employees about the value of living a healthy lifestyle and proactive disability planning and prevention. And individuals can use it to take charge of their own financial security.
For more details about the PDQ, the CDA encourages all American wage earners to try the interactive version of the tool at: www.whatsmypdq.org. Other disability statistics, personal stories, preparedness tools and resources are available at: disabilitycanhappen.org.
About the Council for Disability Awareness (CDA)
The Council for Disability Awareness (CDA) is a non-profit group dedicated to helping the American workforce become aware of the growing likelihood of disability and its financial consequences. The CDA engages in communications, research and educational activities that provide information and helpful resources to wage earners, their families, employers and others who are concerned about disability and the impact it can have on wage earners and their families.