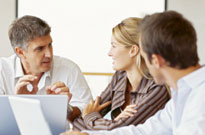 America's Income Protection Picture
The CDA's 2014 consumer awareness study examines how and why too many working adults fall short in protecting one of their most important resources – their income.
Disability Divide Series

CDA 2013 Disability Divide Employer Awareness Study
The Disability Divide: Employer Study. The gap between employees' attitudes – and HR professionals' perceptions of those attitudes – about disability and their potential threat to their financial security


Annual Long Term Disability Claims Review
A multi-year review of LTD claims and trends among U.S. workers. Primary data is collected from CDA member companies' long term disability claim records. The report also includes an analysis of Social Security Disability Insurance (SSDI) trends, using publically available data from the U.S. Social Security Administration.
Most Recent
Study based on 2013 claims data
Previous Years (PDF Only)
CDA Research Archive
CDA White Paper, Worker Disability: A Growing Risk to Retirement Securityaddresses Americans' lack of awareness of the risks and financial burden that an unexpected accident or illness can have on retirement savings. The white paper discusses how American workers are taking on more responsibility for their own personal financial wellbeing, but most are not planning accordingly and are threatening their retirement security