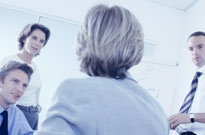 Try the CDA's 1-2-3 Wellness Approach
1. Tap into resources for wellness program ideas and materials on the following topics
2. Provide wellness education and support for your employees
Create and distribute a newsletter, e-newsletter, internal Web site, posters, and other materials for regular, ongoing communications
Offer flexible hours or incentives for healthy living
Provide healthy food and snacks in office vending machines or cafeteria
Provide stress-management tips
Create an employee walking path and/or fitness facility
Establish 10:00 a.m. and 3:00 p.m. stretch breaks
Encourage wellness checkup appointments
Conduct Lunch-and-Learn sessions on various health-related topics
Launch "Take the Stairs" campaign
Offer online health assessments and resources
3. Implement an Employee Assistance Program (EAP)
Employee Assistance Programs provide employees with access to confidential, professional assistance while helping them remain productive at work. These programs are designed to help employees overcome problems that may negatively affect job satisfaction or productivity. Services may be provided on-site or contracted through outside providers. They may include counseling for alcohol dependence and drug dependence, marital therapy or family therapy, career counseling, and referrals for child care and elder care services.
A study shows that when EAP services are provided work loss was avoided in 60% of cases with an average of 17 hours per case. 72% of these cases showed improved work productivity with an average gain of 43%. 28
An employer-sponsored EAP program can reduce an employer's disability costs, medical costs, pharmacy costs and workers' compensation costs. 29
EAPs appear to have a positive affect on disability claims, according to recent studies. 30
EAP programs have increased 73% between 2003 and 2007.31
Companies without an EAP had 6% of employees on disability leave annually, compared to just 2% of workers for employers with EAP services. 32
Companies without an EAP had 598 short-term disability claims for musculoskeletal disorders (such as back pain), compared to 312 claims for companies with an EAP. 33
On average, workers with musculoskeletal disorders at companies without an EAP remained away from work 22 days longer than those who used an EAP. 34
Cancer survivors who used an EAP returned to work 6 days sooner than those who didn't use and EAP. 35
The Return on Investment for employers that use an EAP in conjunction with disability benefits is $2.93 for every dollar spent on the EAP and disability insurance. 36
Studies show how EAPs Improve Employee Health and Productivity.
Contact your HR department or broker for more information on EAPs.
This page contains links to other Web sites, web servers and systems which are not guaranteed to be checked for accuracy and do not necessarily reflect the opinions of CDA. CDA cannot assume responsibility for the availability, content, or even the existence of servers, sites or systems outside of the CDA.
Back to top