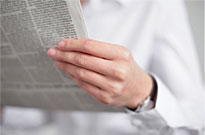 Contact: Stefanie Arcangelo
Phone: 860.676.2300 x119
Stefanie.Arcangelo@adamsknight.com
Long Term Disability Claim Payments Increase While the Number of Covered Workers Rises
Council for Disability Awareness releases eighth annual Long Term Disability Claims Review
PORTLAND, Maine, June 18, 2013 – The Council for Disability Awareness (CDA) today released its eighth annual Long Term Disability Claims Review, which consolidates and summarizes claim data and trends from America's top disability insurance companies. CDA announced that the total amount of long term disability claim payments continued to increase in 2012. In addition, new pregnancy related disability claims increased sharply (by 24 percent) in 2012, and now account for more than 12 percent of new long term disability claims for female wage earners.
In total, CDA member companies made more than $9.4 billion in long term disability insurance claim payments in 2012, which is a 0.4 percent increase over 2011. 662,000 individuals who were prevented from working and earning a paycheck because of an illness or injury received disability payments in 2012. The report also reveals that the number of wage earners protected by private disability income insurance increased in 2012, the first such increase in three years.
"While we continue to see an overall increase in long term disability claim payments, the actual number of claimants decreased slightly in 2012, reversing a multi-year upward trend," said Barry Lundquist, president of the CDA. "And for the first time in several years, we've seen an increase in covered workers. The decline in claims and growth in covered workers are both likely related to the gradually improving economy and declining unemployment rates. While the environment seems ripe for an upswing, recovering claimants looking to return to work continue to be hampered by limited availability of appropriate employment opportunities."
Of the 154,000 new disability claimants approved by CDA member companies during 2012, more than half (54 percent) were women, a percentage that has slowly increased over time compared to the percentage of male claimants.
Key findings from the 2013 Council for Disability Awareness Long Term Disability Claims Review include:
Insured lives protected by private long term disability insurance increased by one percent, reversing a three-year trend.
By a large margin, diseases of the musculoskeletal system and connective tissue – such as arthritis, spine disorders, back pain, sciatica and osteoporosis – continue to be the leading cause of disability claims (representing 30.7 percent of all 2012 claims).
For the second straight year, new Social Security Disability Insurance (SSDI) claim applications and awards declined.
Despite the decrease in applications and awards, a record 8.8 million workers – over 5 percent of the U.S. workforce – were receiving SSDI benefits at the conclusion of 2012 because new SSDI awards exceeded terminations by 35 percent during 2012.
The average Social Security Disability Insurance (SSDI) monthly benefit at the conclusion of 2012 was $1,130. For males it averaged $1,256 and for females it was $993.
"In assessing the Social Security Disability Insurance program, the number of workers receiving payments increased to 8.8 million by the end of 2012, its highest level ever," Lundquist continued. "Given the current trends, analysts predict that the SSDI trust fund will be depleted in 2016. However, the silver lining is that applications and new SSDI claim approvals declined during 2012 for the second year in a row."
To obtain a copy of the 2013 CDA Long Term Disability Claims Review, please visit disabilitycanhappen.org. Additional resources are also available through the CDA's website, including disability research, statistics, tools and financial planning guides that provide tips on how to assess the risk of disability and protect against its impact. Individuals can determine their own personal risk of becoming disabled using CDA's disability calculator, the Personal Disability Quotient (PDQ), at www.whatsmypdq.org.
About the Council for Disability Awareness Long Term Disability Claims Review
Since 2005, the Council for Disability Awareness (CDA) has conducted a proprietary annual review of long term disability claims among the U.S. working population. The CDA Long Term Disability Claims Review summarizes quantitative and qualitative long term disability insurance claims data gathered from the annual CDA member Long Term Disability Claims Survey. The report identifies continuing or emerging trends for the purposes of education, evaluation and use by interested audiences. Also included is selected worker disability data from the Social Security Disability Insurance (SSDI) program. Nineteen CDA member companies, representing over 75 percent of the individual and group commercial disability insurance market, contributed data for this survey.
About The Council for Disability Awareness
The Council for Disability Awareness (CDA) is a nonprofit organization dedicated to educating the American public about the risk and consequences of experiencing an income-interrupting illness or injury. The CDA engages in research, communications and educational activities that provide information and helpful resources to wage earners, employers, financial advisors, consultants and others who are concerned about the personal and financial impact a disability can have on wage earners and their families.