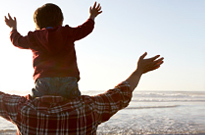 "Who would have expected to be permanently disabled from a broken arm?"
Delayed Social Security Disability Benefits forced Monica to use her retirement savings after a simple broken arm turned tragic.
Monica had it all by the age of 37: A successful career in the financial field, a wonderful son, and big dreams for the future. She never dreamed a disability would change her life forever.
But, in January 2003, Monica stepped off a porch and slipped on the wet ground. She went down, trying to brace her forward fall by stretching out her arms for support. Her right elbow, shattered in a dozen places, needed to be surgically repaired.
After initial recovery, Monica developed osteonecrosis, a condition known as "dying of the bone." Monica's humerus bones started to crumble and she became confined to a wheelchair. Monica eventually hired a caretaker to help her do basic daily tasks, such as bathing, eating, and dressing.
The financial fallout was devastating. Monica was awarded Social Security Disability Benefits, but it took more than two years to receive payments, not uncommon. She used her retirement savings to pay expenses. She wasn't able to work and she couldn't afford to pay the rent.
Despite Monica's daily pain, her spirit is high and keeps her going.
"That's the one thing I still have-my intelligence and drive to regain my life and health, along with the support of my family, friends and health care providers," says Monica. "Who would have expected to be permanently disabled from a broken arm?"
Plan ahead to help protect yourself in the event of an accident or injury.