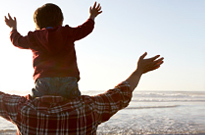 For ten years, Vicki was a customer service representative for a major company near where she lived. She enjoyed her work, had been promoted regularly and was looking forward to continued success and growth opportunities within the company. Driving home from work on a typical weekday, she was a few blocks away from home when she was suddenly rear-ended. While the accident was not life-threatening, Vicki injured her lower back and experienced significant nerve damage.
She was unable to return to work for over nine months. Vicki's husband was self-employed and the reduction in income was a strain on the family. After nine months, Vicki was finally able to return to her company, first working a few days a week until she could physically handle a full workweek. However, in her absence, the company had filled her previous position, and Vicki had to take a position that was a few levels below the one she had been in before the accident in terms of salary and level of responsibility.
While Vicki has regained her health, the time she took off because of the accident has affected her career path, and her overall earnings. She often wonders how much the nine months away from her job has set her back financially. Although Vicki was fortunate enough to overcome the physical effects of her accident, the financial impact is still evident.
Plan ahead to help protect yourself in the event of an accident or injury.
To protect the privacy of those impacted by a disability, only first names are used and the photo is not of the actual individual profiled.