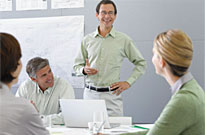 Council for Disability Awareness Privacy Policy
CDA's Commitment to Privacy
The Council for Disability Awareness (CDA) understands that your privacy is important. We are committed to respecting the privacy and security of all visitors to our Web site. This notice explains the CDA privacy practices.
Types of Information Requested
Users may visit the Web site without giving CDA any personal information. Users will not have to register in order to gain access to any part of the site. When using either the Income Expense Review or Personal Financial Security Plan offered on the Web site, none of the financial information that is entered will be collected or shared with a third party organization.
If the contact form is used, CDA will not disclose to third parties any information gathered. In order to maintain the integrity of the personal information you provide, we deploy computer encryption technology to protect your information from unauthorized access or release.
CDA may use email and street addresses voluntarily provided through the contact form by site visitors to notify them of updates and services. Site visitors who do not wish to receive such notifications have the option to not fill out the voluntary contact form.
Cookies
Our Web site uses cookies to better understand how our visitors use the site. A "cookie" is a text file stored on the user's hard drive containing information about the user. This information helps us to statistically monitor how many people are using it and for what purpose.
Links
The CDA Web site contains links to other sites as a convenience to its users. The inclusion of these third party links does not constitute, and should not be construed as an endorsement or recommendation by CDA of such third-party organizations, their Web sites, or their products and services. CDA has not reviewed and is not responsible for the privacy practices or content of such Web sites.
Notification of Change
CDA reserves its right to change its privacy policy. The most current privacy policy will be posted on the Web site so you, as a user, will always be aware of this information. If at any point CDA decides to use personally identifiable information in a manner different from the one stated at the time it was collected, the CDA will notify users through updating the Web site.