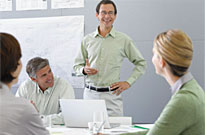 Council for Disability Awareness Terms of Use
PLEASE READ THESE TERMS CAREFULLY BEFORE USING THIS SITE
1. This Site Does Not Provide Financial or Insurance Advice
Information on this site is provided for informational purposes only and is not intended as a substitute for the advice provided by your financial advisor, insurance agent or other professional advisor. You should always speak with your financial advisor, insurance agent or other professional advisor before purchasing any insurance product or services.
2. Your Responsibilities
You are responsible for any content that you post or transmit on or through this Web site. You will not use this Web site to distribute or solicit content that:
is unlawful, harmful to minors, threatening, harassing, abusive, defamatory, vulgar, gratuitously violent, obscene, pornographic, libelous, invasive of another's privacy, or racially, ethnically or otherwise offensive;


infringes someone else's intellectual property or other rights;
violates any law, regulation, or contract;
contains software viruses or any other computer code, files, or programs that are designed or intended to disrupt, damage, or limit the functioning of any software, hardware, or telecommunications equipment.
All suggestions, feedback or other information communicated to CDA through this site (collectively, "Submissions" ) are and will remain the property of CDA. CDA will not be required to treat any Submission as confidential. Without limiting the generality of the foregoing, CDA may use, copy, display, distribute, create derivative works based on or otherwise fully exploit any and all Submissions for any commercial purpose whatsoever, without compensation to you or to any other person sending the Submission.
You agree not to use any device, software or routine to interfere or attempt to interfere with the proper working of this Web site. You may not take any action that imposes any unreasonable or disproportionately large load on our infrastructure.
You agree to comply with CDA's rules and policies regarding use of the site, as published from time to time by us. You agree that your use of the site will at all times be for a lawful purpose and you agree to comply with all applicable laws and regulations in your use of the site.
3. Privacy
We respect your privacy in accordance with the terms of our privacy policy (see our privacy policy by clicking here: http://cdadev.org/privacy/ We reserve the right to monitor our site and to disclose any information recorded or posted on, submitted to, or transmitted through our site to the extent that we, in our sole discretion, deem such disclosure necessary or appropriate to comply with any law, regulation, subpoena, or government request, to operate our site, or to protect our rights or property or the rights or property of our users.
4. Our Rights
We may terminate your access, or suspend your access to all or part of our Web site, without notice, for any conduct that we believe, in our sole discretion, is in violation of any applicable law or is harmful to us, our interests or the interests of another user or one of our sponsors, licensors, or suppliers.
5. Modifications of these Terms of Use
We may amend these Terms of Use at any time without notice by posting the amendments on our Web site and we encourage you to check the site at any time to review any changes. Amended terms will be effective immediately upon posting them to our Web site. These Terms of Use may not otherwise be amended except in a writing signed by an authorized officer of CDA.
6.Copyrights and Trademarks
"The Council for Disability Awareness" is a service mark owned by CDA. All other trademarks, logos and product and company names appearing on the site are the property of their respective owners.
This site contains software, photographs, graphics, text, images and other material (collectively "Material") that are protected by U.S. and international copyright laws, and the copyrights in such Material are valid and protected in all forms, media and technologies existing now or developed in the future. All such Material also is copyrighted as a collective work under U.S. and international copyright laws, and CDA owns a copyright in the selection, coordination, arrangement, and enhancement of such Material.
Except as expressly set forth in this Terms of Use, any use, including the reproduction, modification, distribution, transmission, republication, display or performance of the content on this site is strictly prohibited. You may use, copy and distribute the materials and information on the site for internal, informational purposes only. Any copy you make of the material must bear any copyright, trademark or other proprietary notice that pertains to the material being copied
7. Disclaimers
THE INFORMATION AND MATERIALS CONTAINED ON THIS SITE ARE PROVIDED "AS IS". CDA MAKES NO WARRANTY AS TO THE ACCURACY, QUALITY, TIMELINESS, AVAILABILITY OR COMPLETENESS OF THE INFORMATION AND MATERIALS MADE AVAILABLE TO YOU ON THIS SITE, THAT SUCH INFORMATION OR MATERIALS WILL MEET YOUR REQUIREMENTS, OR THAT THE SITE WILL BE UNINTERRUPTED, TIMELY, SECURE, OR ERROR FREE. NOR DOES CDA MAKE ANY WARRANTY AS TO THE RESULTS THAT MAY BE OBTAINED FROM THE USE OF THE SITE. CDA EXPRESSLY DISCLAIMS ALL WARRANTIES OF ANY KIND, EXPRESS OR IMPLIED, INCLUDING WITHOUT LIMITATION ANY WARRANTY OF MERCHANTABILITY, FITNESS FOR A PARTICULAR PURPOSE OR NON-INFRINGEMENT.
ALL INFORMATION CONTAINED ON THE SITE, INCLUDING INFORMATION RELATING TO INSURANCE PRODUCTS AND SERVICES, IS FOR INFORMATIONAL PURPOSES ONLY AND DOES NOT CONSTITUTE FINANCIAL OR INSURANCE ADVICE. SUCH INFORMATION IS NOT MEANT TO BE A SUBSTITUTE FOR THE ADVICE PROVIDED BY YOUR FINANCIAL ADVISOR, INSURANCE AGENT OR OTHER PROFESSIONAL ADVISOR. YOU SHOULD ALWAYS CONSULT YOUR FINANCIAL ADVISOR, INSURANCE AGENT OR OTHER PROFESSIONAL ADVISOR BEFORE PURCHASING ANY INSURANCE PRODUCTS AND SERVICES.
CDA IS NOT RESPONSIBLE FOR THE CONTENT ON THE INTERNET OR WORLD WIDE WEB PAGES THAT IS CONTAINED OUTSIDE CDA'S SITE. AS A CONVENIENCE TO OUR USERS, WE MAY PROVIDE LINKS TO RESOURCES WHICH ARE BEYOND OUR CONTROL. WE MAKE NO REPRESENTATIONS AS TO THE QUALITY, SUITABILITY, FUNCTIONALITY OR LEGALITY OF ANY SITES TO WHICH WE MAY PROVIDE LINKS, AND YOU HEREBY WAIVE ANY CLAIM YOU MIGHT HAVE AGAINST CDA WITH RESPECT TO SUCH SITES.
8. Applicable Law
We control our site from within the United States. We make no representation that the content on our site is appropriate, legal or available for use in other locations. Those who choose to access our Web site from other locations do so on their own initiative and are responsible for compliance with applicable local laws. These Terms of Use shall be governed by and construed in accordance with the laws of the State of Maine, without giving effect to its conflicts of laws provisions. By entering and visiting the site, you consent and submit to the exclusive jurisdiction and venue of the state and federal courts located in Maine.
9. Linking
CDA welcomes links to its www.disabilitycanhappen.org site (the "Web site"). If you want to link to the Web site, you may do so, provided you agree to the terms and conditions set forth below. By establishing a link to the Web sites, you will be deemed to have agreed to these terms and conditions. Links may be established to the homepage of the Web site.
If you link to the Web site, CDA grants you a revocable, non-exclusive license to use The Council for Disability Awareness service mark (the "Licensed Mark") solely for the purpose of serving as a link from your Web site or other electronic publication to the Web site. Except for the limited license to use the Licensed Mark granted in this paragraph, you may not use the Licensed Mark or any other CDA trademarks or service marks (the "Marks") for any reason without CDA's prior written permission.
You acknowledge that all rights to the Marks, the content appearing on the Web site, and the look and feel of the Web site belongs to CDA and/or its third party licensors. You will not at any time directly or indirectly contest or infringe these rights.
If you link to the Web site, you:
Should not create frames around the Web site or use other similar boundary control techniques that alter the visual presentation of the Web site.
Should not deep link to content appearing in files below the URL of the Web site referenced above.
Should not imply that CDA is endorsing you or your products or services.
Should not imply an affiliation between your company and CDA without the prior written consent of CDA.
Should not misrepresent your relationship with CDA or present false or misleading impressions about CDA products or services.
Should not publish materials that may be interpreted as distasteful or offensive and should be appropriate for all age groups.
CDA shall have no responsibility or liability for any content appearing on your Web site or electronic publication.
CDA may at any time, in its sole discretion, immediately terminate your license to use the Licensed Mark and your right to link to the Web site, with or without cause. If CDA exercises this right, you will immediately remove all links to the Web site and cease using the Licensed Mark.
CDA may amend these linking terms and conditions at any time. You agree to abide by these linking terms and conditions and other legal terms and conditions on the Web site, as amended from time to time. All terms and conditions related to the use of the Web site will be construed according to the laws of the State of Maine, United States of America, without regard to its conflict of law provisions.
10. Copyright Complaints
We respect the intellectual property of others, and we ask our users to do the same. If you believe that your work has been copied and is accessible on our Web site in a way that constitutes copyright infringement, you may notify us by providing our copyright agent the following information:
An electronic or physical signature of the person authorized to act on behalf of the owner of the copyright interest;
A description of the copyrighted work that you claim has been infringed, including the URL (i.e., Web page address) of the location where the copyrighted work exists or a copy of the copyrighted work;
Identification of the URL or other specific location on our Web site where the material that you claim is infringing your copyright interest is located;
Your address, telephone number, and email address;
A statement by you that you have a good faith belief that the disputed use is not authorized by the copyright owner, its agent, or the law;
A statement by you, made under penalty of perjury, that the above information in your notice is accurate and that you are the copyright owner or authorized to act on the copyright owner's behalf.
Our agent for notice of claims of copyright infringement on our Web site can be reached as follows:
By mail:
The Council for Disability Awareness
477 Congress St, 5th Floor
Portland, Maine 04101
By email: info@disabilitycouncil.org