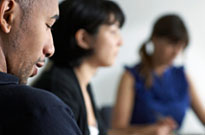 What are the most common causes of disability?
Injuries at work? Freak accidents? It's true, they happen. But the truth might surprise you.
Illnesses like cancer, heart attack or diabetes cause the majority of long-term disabilities. Back pain, injuries, and arthritis are also significant causes.
Most are not work-related, and therefore not covered by workers' compensation.
Lifestyle choices and personal behavior that lead to obesity are becoming major contributing factors.
Musculoskeletal disorders are the #1 cause of disabilities. Examples include; arthritis, back pain, spine/joint disorders, fibromytis, etc.
Here is a chart of claim diagnosis categories in lay language to provide clear examples of common causes of disability.
Here's how you can reduce your chances of becoming disabled.