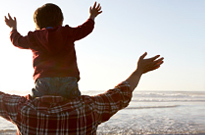 "I had never even heard of disability insurance...."
Despite a sudden and unexpected disability, Stephani Victor overcame the odds and became a champion on and off the ski slopes. She now encourages others to learn from her mistakes and be prepared.
Energetic and lively, Stephani Victor is an all-American girl. Her vivacious spirit and insatiable desire to learn landed her at the highly competitive film school at the University of Southern California, where, in 1995, she graduated with honors.
Well on her way to a successful career in film, Stephani was the victim of a devastating accident. She was hit by an out-of-control car that crushed her into a parked car while standing in the driveway. In an emergency effort to save her life, doctors amputated both her legs. At 26 years old, Stephani was left with a physical disability that had the potential to affect the life ahead of her.
Three years and 11 surgeries later, Stephani found herself in financial turmoil. She was not able to return to her previous employment and her small savings were very limited.
"My medical bills (even with full coverage health insurance) were more than $250,000.00."
This was a staggering debt to owe for someone who just graduated from college, but her confidence was not broken. She was determined to make the most of her life, with or without a disability.
In 1999, Stephani tried skiing for the first time since the acccident...with a mono-ski. A natural born competitor, in 2000, Stephani won her first U.S. National Title in Slalom. Currently Stephani is the reigning World Champion, Paralympic Champion and Overall World Cup Champion.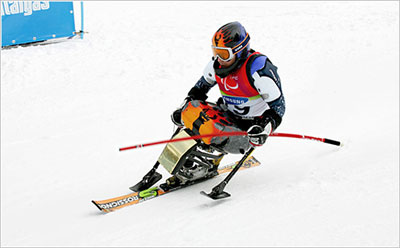 Thanks to her many successes in skiing, film, and motivational speaking, Stephani now finds herself in a financially stable position.
"I'm really lucky," Stephani says, "and I know not everyone who finds themselves with a life-changing injury is as fortunate as I have been. I had never even heard of disability insurance. Having disability insurance would have helped alleviate the financial burden I suddenly had. I only hope my story inspires others to start thinking about what their financial responsibilities would look like if they were to become disabled."
Plan ahead to help protect yourself in the event of an accident or injury.