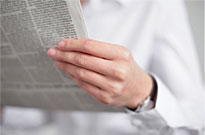 Contact: Emily Pangakis
Phone: 860.676.2300 129
Emily.Pangakis@adamsknight.com
Three Reasons Why Americans Don't Insure Their Income
National Survey Reveals Need for Consumer Education About the Chances of Being Unable to Work
PORTLAND, Maine, December 10, 2014 – Twenty-seven percent of working adults think they have a greater chance of being audited by the IRS than experiencing an illness or injury that prevents them from working for a period of time. The actual odds? One percent for an audit vs. 25 percent for being out of work.
The Council for Disability Awareness' new report, "America's Income Protection Picture," identifies several factors preventing many full-time working adults from insuring their income. And the majority of consumers believe their income is one of the "most important things in life." Access the full report here: https://disabilitycanhappen.org/consumer/
Whether a millennial at the start or height of her earning years, or a baby boomer saving for retirement, a consumer's ability to work and earn an income is probably his or her most valuable financial resource. Yet 57 percent of working adults surveyed said they lack disability insurance, which is one of the best ways for a consumer to replace a portion of his income if he or she can't work for several months – or even several years – due to an illness or injury.
Why working adults said they don't have coverage:
"I can't afford it" (33%)
"I've never thought about it" (30%)
"I don't know enough about it" (24%)
Employees, freelancers and entrepreneurs should consider the following:
Most people can't afford not to have disability insurance. Forty-one percent of respondents said they would consider buying disability insurance if it was less expensive. But 60 percent say they have less than six months of savings. The average long-term disability lasts 24.5 months, leaving most uninsured workers strapped for cash while they're recovering from a surgery, illness or injury.
1 in 4 of today's 20-year-olds will experience a disability before retirement. Working adults dramatically underestimate their risk of being out of work for a while – one reason they may not think about getting coverage. The leading causes of long-term disability are not catastrophic accidents, as many think, but include back pain, depression and time off needed during cancer treatments.
Other income-replacement solutions are usually inadequate. Half of working adults say they would tap savings and investments if their income stopped due to a temporary disability. Millennials in particular say they would look to friends and family for help or a loan, while those over age 50 said they would access government programs or retirement savings. But these short-term solutions are unlikely to help during recovery from an illness that could last two years or longer.
Consumers should ask themselves:
How would I pay my bills if I got sick or injured and couldn't work for three months or more?
How long could I meet all of my financial obligations (e.g., bills, student loans, rent) with the money I have in savings and other sources?
What if my partner or spouse became too sick or injured to work: Could we survive on one paycheck?
One-third of working adults, and 40 percent of millennials, would consider buying disability insurance if they knew more about it. Consumers who hesitate to answer any of the above questions might want to consult a trusted advisor for help or advice.
"Employees can get help in understanding their employee benefit options from their company's human resources department, or they can access an insurance agent or a financial advisor to develop an overall financial plan that includes taking steps to protect their income," said Carol Harnett, CDA president. "There are several ways to make sure you have an income stream while you're out of work. A short- or long-term disability insurance policy is usually seen as the best way to cover a portion of your income while you're out of work, but other policies such as critical illness and accident insurance may help as well."
About America's Income Protection Picture
Wakefield Research conducted the survey using an email invitation and online survey between May 28, 2014, and June 9, 2014. The 1,000 participants met the following criteria: U.S. residents, employed full-time in the private sector, between the ages of 21 and 68, with a household income of $25,000 or more.
About The Council for Disability Awareness
A nonprofit organization dedicated to educating the American public about the chances of experiencing an income-interrupting illness, injury or surgery, and how to have a plan for these times. The CDA engages in research, communications and educational activities that provide information and helpful resources to working consumers, employers, financial advisors, consultants and others who are interested in helping employees, freelancers and entrepreneurs prepare for the personal and financial impact time out of work can have on wage earners and their families.