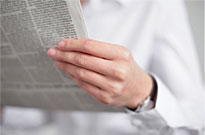 Contact: Gary Griffin
Phone: 860.676.2300 x131
gary.griffin@adamsknight.com
New Online Resource Available for Financial Advisors to Help Clients Understand and Prepare for Disability
The Council for Disability Awareness has Added New Online Resource to Help Advisors Assist American Workers Plan for Financial Impact of Disability
PORTLAND, Maine – April 29, 2008 – To help advisors, financial planners and brokers communicate to their clients the value of planning ahead for disability, the Council for Disability Awareness (CDA) recently added a new Advisor Information & Resource Center to their Web site, disabilitycanhappen.org/advisor/.
Unexpected off-the-job illnesses and accidents continue to grow rapidly, seriously impacting the financial security of more and more American workers and their families. The number of workers experiencing an income-limiting disability has risen 32 percent since 2000, while more families struggle to make ends meet. And yet, according to a recent survey, most Americans have not even discussed with anyone how they would pay the bills if they were unable to work during a period of disability. It is more important than ever for advisors to counsel their clients about financially preparing for a disability.
"It's critical that financial advisors and planners make sure that managing a disability-related loss of income is included in each client's financial planning strategy," explains Robert Taylor, the president of the Council for Disability Awareness. "The new CDA advisor section is a valuable resource to help advisors elevate disability planning as an essential part of the financial planning process."
The site contains information and tools for financial advisors to help their clients to better understand the consequences of disability and the value of disability planning, including:
The site also offers resources specifically for advisors, such as links to CDA member company Web sites for disability product ideas and a forum to discuss best practices.
For more information, visit CDA's new Advisor Information & Resource Center, disabilitycanhappen.org/advisor.
About the Council for Disability Awareness (CDA)
The Council for Disability Awareness (CDA) is a non-profit group dedicated to helping the American workforce become aware of the growing likelihood of disability and its financial consequences. The CDA engages in communications, research and educational activities that provide information and helpful resources to wage earners, their families, the media, employers and others who are concerned about disability and the impact it can have on wage earners and their families.