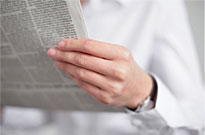 Contact: Gary Griffin
Phone: 860.676.2300 x131
gary.griffin@adamsknight.com
PORTLAND, Maine. – March 7, 2007 – A growing number of American workers are forecasted to experience a disability – an accident or illness that will keep them out of work at least three months – during their career. But the majority of workers in a new survey said they were not concerned about the possibility of becoming disabled. In fact, more than 80 percent of workers said they believe their chances of becoming disabled are far lower than actual statistics report, according to the 2007 Disability Awareness Survey, released today by the Council for Disability Awareness (CDA).

Data from the survey underscores the critical need to better inform America's workforce about the likelihood of experiencing a disability, as well as the potential financial consequences that may accompany a disability. And CDA is embarking on an outreach effort to increase public dialogue about disability awareness.

"Preparing for an unexpected disability has never been more important for America's workforce – especially as more American workers are suffering from income-limiting disabilities that can leave them and their families vulnerable to severe financial hardship," explained Robert Taylor, executive director of CDA. "It's important that workers recognize the growing threat that disability can pose to their financial security. And with this survey, CDA aims to expand the public dialogue that will raise the necessary awareness level on this critical issue."

Since 2000, the number of disabled workers in America has increased by 35 percent according to recent Social Security Administration data. At the same time, the financial health of many American workers has declined. Workers are not only spending their earnings, but also are dipping deeper into their savings and going into debt to make ends meet. The overall 2006 U.S. savings rate was negative 1 percent – the worst since the Great Depression. These statistics are distressing, considering two-thirds of respondents with a 401k or IRA plan are unaware of what would happen to their retirement savings should they become disabled and unable to earn an income.

Given this unsteady financial situation, it's alarming that nearly 60 percent of workers surveyed said they haven't discussed how they would manage an income-limiting disability. In fact, almost half of these workers haven't thought at all about the need to plan for the financial impact of a disability.

On the other hand, of those workers who have planned financially for a disability, more than 80 percent are confident about their ability to cover living expenses if a disability strikes.

The CDA survey also showed that:

The majority of workers (56 percent) didn't realize that their chances of becoming disabled had risen over the past five years.
Nine out of ten (90 percent) workers underestimated their own chances of becoming disabled.
More than one-third (35 percent) of workers with 401k or IRA plans said they haven't thought about or don't know what would happen to their contributions if they were unable to earn an income for a period of time.

"As responsibility for long-term financial security continues to shift to the American worker, the need to incorporate disability planning into each person's financial security plan has become more critical," Taylor said. "Fortunately, with good planning, American workers can dramatically improve their chances of financial stability should a disability strike."

About the Council for Disability Awareness (CDA)
The Council for Disability Awareness (CDA) is a non-profit group dedicated to helping the American workforce become aware of the growing likelihood of disability and its financial consequences. The CDA engages in communications, research and educational activities that provide information and helpful resources to wage earners, their families, the media, employers and others who are concerned about disability and the impact it can have on wage earners and their families.

About the survey
In January and February of 2007, CDA worked with the research firm StrategyOne to conduct a 15-minute telephone survey of 1000 working American adults ages 18 to 65 nationwide. The margin of error for the sample size was +/-3.1 percentage points at the 95% level of confidence.