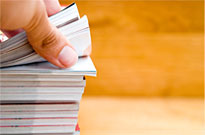 CDA 2010 Consumer Disability Awareness Survey
The Disability Divide
The gap between what employees believe – and how they act – about the potential for an income – threatening disability
Overall Odds of Disability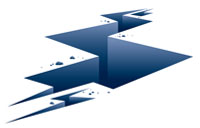 Overall Odds of Becoming Disabled

Workers significantly underestimate either others' or their own chances of becoming disabled.
Over half of survey respondents think only one in 100 or one in 50 working Americans are likely to become disabled during their working careers.
Only 7% of the survey respondents came close to predicting their chances accurately.
Those who knew someone who had been disabled were much more likely to think there was a higher chance they'd become disabled. In fact 27% of this group thought their own odds were at least 1 in 10.
The Social Security Administration estimates that 3 out of 10 Americans entering the workforce today will become disabled before they retire.
This statistic is supported by the Council for Disability Awareness Personal Disability Quotient (PDQ) calculator as well as publicly available actuarial tables. See www.whatsmypdq.org for details.
The PDQ calculates the odds of being disabled for a healthy 35- to 45-year-old male during his working career as about 1 in 6.*
*Calculated by the Council for Disability Awareness' "Personal Disability Quotient" (PDQ) for males, 5′ 10″, 185 pounds, with no tobacco use and about average health.
Research Findings:
Respondents' estimate of the chances of becoming disabled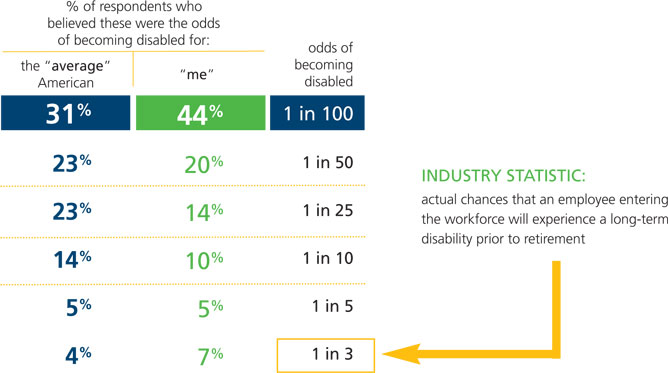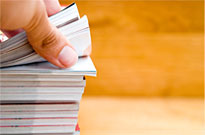 Charts and graphs
Research has shown that many individuals prefer to receive information graphically rather than from numbers or written text. The charts and graphs below were derived from various sources, including CDA studies. Please feel free to download and print the charts and graphs to support your needs, and help support our mission to raise awareness of the risk of disability through education and public awareness.

1. Preparing for Disability – Protect Your Income
2. Disability Divide: Worker Research Study
3. CDA Annual Long Term Disability Claims Review (2014)
This section last updated June 13, 201
4. Social Security Disability Insurance (SSDI) Data
This section last updated June 13, 2015