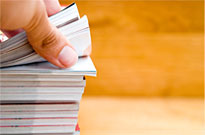 CDA 2010 Consumer Disability Awareness Survey
The Disability Divide
The gap between what employees believe – and how they act – about the potential for an income – threatening disability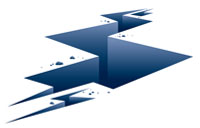 Nearly 70% of respondents think a disability would keep a person out of work for more than one year.
70% of employees in the private sector are not covered by any type of private long-term disability insurance.1
Workers surveyed believe that if a person becomes disabled, he/she will be out of work for a lengthy period of time. In fact, more than two – thirds of respondents thought that a disability would put a person out of work for a year or more. And almost one – third said that person would never return to work.
In fact, even when offered as a voluntary benefit by their employers, almost 40% of workers don't choose long-term disability insurance.2 And barely 30% claim to understand it very well.2
Even the likelihood of receiving government benefits from the Social Security Disability Insurance program (SSDI), which could cover a person after a severe disability that is expected to last a year or more or result in death, is dwindling. Although most private sector employees are covered by SSDI, benefits are limited.
The average monthly SSDI benefit amount in 2009 was $1,064, with 56% of recipients receiving less than $1,000 per month.3
It is very difficult to qualify for SSDI benefits. 65% of initial benefit applications were denied in 2009,3 and the appeals process can last up to four years
SSDI approval rates have steadily declined in recent years.4
1 Social Security Administration, Fact Sheet, Jan. 31, 2007.
2 CDA 2008 Worker Disability Planning and Preparedness
Study.
3 Social Security Administration, Disabled Worker
Beneficiary Statistics, ssa.gov.
4 The 2010 CDA Long-Term Disability Claims Survey.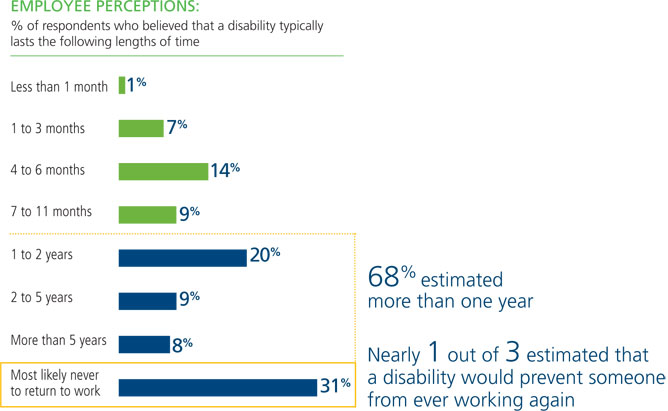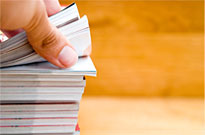 Charts and graphs
Research has shown that many individuals prefer to receive information graphically rather than from numbers or written text. The charts and graphs below were derived from various sources, including CDA studies. Please feel free to download and print the charts and graphs to support your needs, and help support our mission to raise awareness of the risk of disability through education and public awareness.

1. Preparing for Disability – Protect Your Income
2. Disability Divide: Worker Research Study
3. CDA Annual Long Term Disability Claims Review (2014)
This section last updated June 13, 2014
4. Social Security Disability Insurance (SSDI) Data
This section last updated June 13, 2014