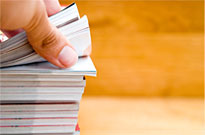 CDA 2010 Consumer Disability Awareness Survey
The Disability Divide
The gap between what employees believe – and how they act – about the potential for an income – threatening disability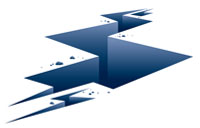 71% of respondents believe that disability is most likely caused by serious accidents.
Disability insurance industry statistics report that fewer than one out of 10 long‑term claims actually result from injuries.
In general, employees tended to see disability as resulting from a more "catastrophic" cause-serious accidents, stroke, cancer, heart disease and paralysis. They tended to overlook more commonplace causes such as muscle or bone pain and chronic disease.
45% of employees cited a stroke as a likely cause of disability.
43% said cancer was a likely cause.
40% said heart disease would cause a potential disability.
The CDA 2010 Long-Term Disability Claim Review reports:
More than one out of four income-interrupting disabilities are triggered by muscle and bone disorders such as back problems, joint pain and muscle pain.
Cancer is the second leading cause of new disability claims, representing 15% of all claims.
Cardiovascular/circulatory problems have increased slightly and are now the third leading cause of new and existing disability claims.
Most disabilities are not work-related, and therefore not covered by workers' compensation.
Lifestyle choices and personal behavior that lead to obesity are becoming major contributing factors.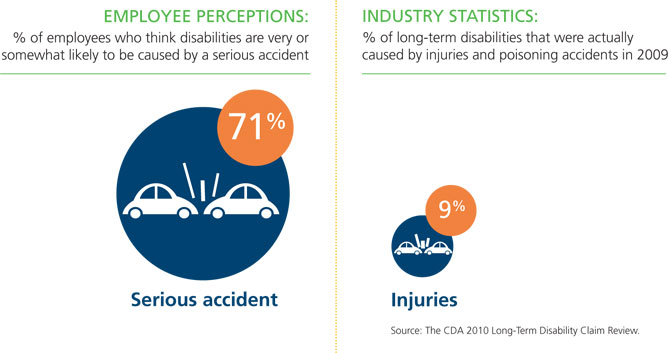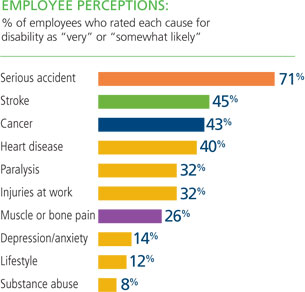 Attitudinal differences by gender
Men and women have a somewhat different view of what would cause disability. In general, women think their own chances of becoming disabled are lower in six out of 10 categories than their male counterparts. Even so, they estimated their own chances of becoming disabled higher than men in four categories:
serious accident
cancer
muscle or bone pain
depression/anxiety
Attitudinal difference by income
While few employees named lifestyle and substance abuse as likely causes of disability, it's interesting to note that both were cited more often by respondents who earn $250,000 or more per year.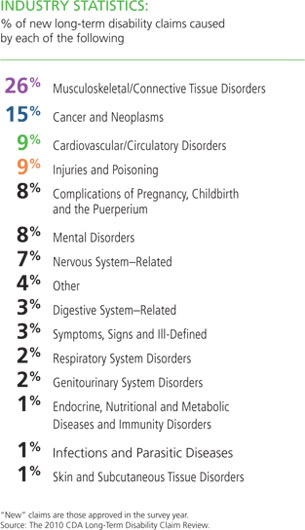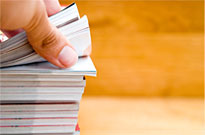 Charts and graphs
Research has shown that many individuals prefer to receive information graphically rather than from numbers or written text. The charts and graphs below were derived from various sources, including CDA studies. Please feel free to download and print the charts and graphs to support your needs, and help support our mission to raise awareness of the risk of disability through education and public awareness.

1. Preparing for Disability – Protect Your Income
2. Disability Divide: Worker Research Study
3. CDA Annual Long Term Disability Claims Review (2014)
This section last updated June 13, 2014
4. Social Security Disability Insurance (SSDI) Data
This section last updated June 13, 2014